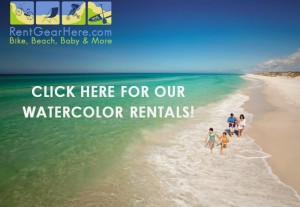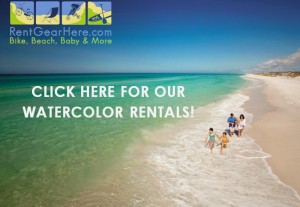 WaterColor Bike Rentals
WaterColor Beach Resort in Santa Rosa Beach, Florida sits upon a part of the Emerald Coast's most beautiful beaches. The lush landscaping and natural woodlands surrounding this community make it ideal for riding bicycles. There would be no better way to spend a vacation in the Northwest Florida Panhandle than to have a WaterColor bike rentals. Vacayzen happily delivers to all of WaterColor and strives to make your WaterColor bicycle rental, WaterColor beach gear rental, and WaterColor baby gear rentals easy.
When the urge to cruise around on a high-quality Jamis cruiser, call Vacayzen. Our WaterColor bike rentals  are delivered to your door all ready to go! Vacayzen provides cruisers for all ages, from small to tall! For the kids, the team at Vacayzen can provide children's bicycles, children's bicycles with training wheels, Kid's trailers and tag-a-longs. Our WaterColor bicycle rentals do not stop there. Adults, we have not forgotten about you! Vacayzen has adult Jamis Cruisers, cruisers with baby seats, and adult tikes (tricycles). For an extra exciting time, try our tandem bicycles! These two-seater bicycles are perfect for any vacationing family, or couple. Vacayzen aims to satisfy your every WaterColor bike rentals needs. Call us today at 1-888-750-7606! If you would like to come to our store we are located at 4042 East County Highway 30A Santa Rosa Beach, Florida 32459!